Gold Winner, Toronto Star Readers' Choice Award for Best Music Instructor 2020!
Music is my passion for a myriad of reasons! My lifelong pursuit of excellence translates into sharing my expertise with my students, colleagues, and community! Lifelong learning is my way of life, to be the best teacher I can be for my students, the teaching community, and our community-at-large.
SUSAN'S PROFESSIONAL/TEACHER DEVELOPMENT 2023:
Wee Violin, World Music Preparatory Program - Crystal Boyack
PracticeLab - Noa Kageyama
SUSAN'S PROFESSIONAL/TEACHER DEVELOPMENT 2022:
Benedetti Foundation Teacher Enrichment trainings
Suzuki Association of the Americas
Suzuki Teacher Collective
Music Mastery Experience 3 - Renee-Paule Gauthier
SUSAN'S PROFESSIONAL/TEACHER DEVELOPMENT 2021:
Ongoing professional development through the Benedetti Foundation, Nathan Cole, Renee-Paule Gauthier, Suzuki Association of the Americas
SUSAN'S PROFESSIONAL/TEACHER DEVELOPMENT Fall 2020:
November - December 2020 - Strategies for Beginning Students for Online & Distance Environment - Dr. Shu-Yi Scott
September 2020 - June 2021 - Virtuoso Master Course, with Nathan Cole, Associate Concertmaster of the Los Angeles Philharmonic
September - October 2020 Creative Strings Workshop Online with Christian Howes
Benedetti Teacher Workshops - Benedetti Foundation, UK (ongoing)
SUSAN'S TEACHER DEVELOPMENT SPRING & SUMMER 2020:
Benedetti Virtual Teacher Sessions - May, August 2020
Mark O'Connor Fiddle Method - Certification Books 1 & 2 - July 2020
Violympics 2020 - Nathan Cole - June - August 2020 (13th place finish, out of 400 worldwide participants/competitors!)
Karen Tuttle Workshops - June 2020
North Texas Suzuki Talent Education Teacher Seminars - June - August 2020
Charles Krigbaum and Daina Volodka Staggs
Teaching Vibrato to Children
The Joys of Pre-Twinkle, pts 1 & 2
Truly by Ear
Hand Anatomy for Violinists
Introducing Three-Octave Scales to Students
Developing Double Stops at the Intermediate Stage
The WOW is in the Details
Suzuki Association of the Americas Online Teacher Seminars:2020
Viola Books 2 -3 Enrichment - Elizabeth Stuen-Walker - June
Developing the Ear from the First Lesson - Teri Einfeldt - June - July
Pre-Twinkle Power - Mark Mutter - July
Teaching Rhythm - Amy Mather - July
Note-reading and Musicianship - Beth Cantrell - July
SUSAN'S TEACHER DEVELOPMENT SUMMER 2019: Creative Strings, Thames Valley Suzuki; Ithaca College Suzuki Institute
In May I participated in a Creative Strings Workshop with the world-renowned Christian Howes! To be a complete musician means being able to play in a wide variety of styles and to learn to improvise with confidence to express our own voices. I look forward to bringing a range of new knowledge, skills, and techniques to expanding my students' repertoire and performance opportunities in even more new, fun, and exciting ways!
In June I became trained and registered at Stage 1 Prenatal and Baby Suzuki Early Childhood Education. Please contact me for more information or to purchase a CD! Makes a great gift to anyone expecting or with a baby or pre-school child!
At the end of June I headed down to beautiful Ithaca, New York to attend the Ithaca College Suzuki Institute for the first time, to register Viola Books 4 & 5, with fabulous trainer April Losey. April travelled there from California, so that saved me airfare this year :-) The faculty and facilities at ICSI are outstanding, and I highly recommend this Institute! Students and teachers came from all over the world and had a fantastic time making and listening to music together. On a side note - the locally-sourced Purity Ice Cream shop was a fun and popular hang out after the days' activities and to celebrate after performances :-)
SUSAN'S TEACHER DEVELOPMENT SUMMER 2018: LASI, CSI, ISM, SOSI! And participating in a World Premiere by Garth Knox at the American Viola Society Festival at Colburn! As well as attending the finals of the Primrose International Viola Competition!
See below for my report on Summer 2017 :-)
After the Finals of the Primrose International Viola Competition with illustrious composer and performer, Garth Knox: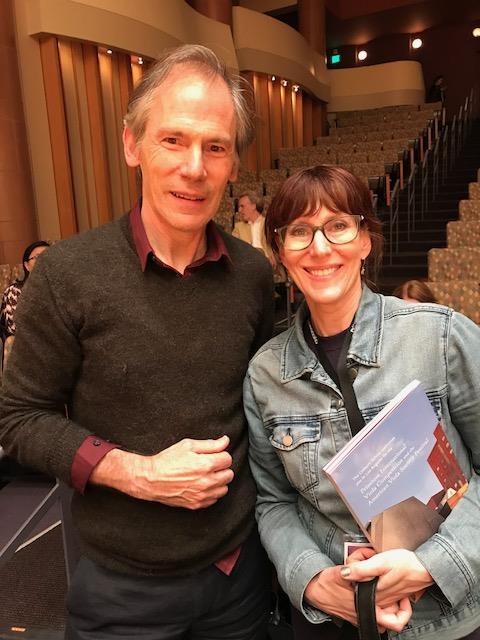 At LASI - Violin Book 6 with Liz Arbus (on the Pitzer College campus in Claremont, California)!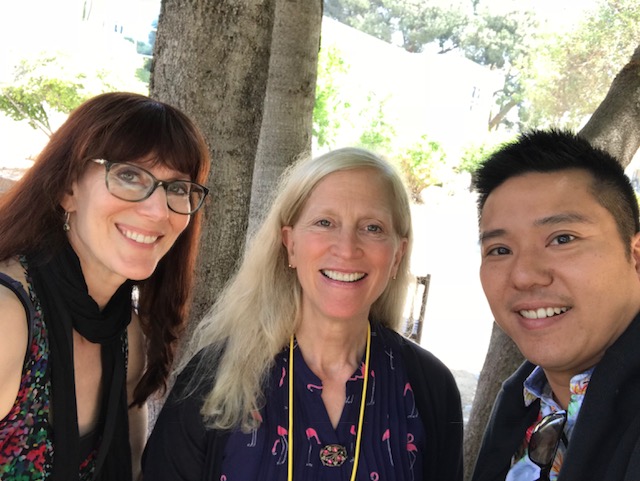 At CSI - Violin Book 8 with Ann Montzka Smelser (and our mascot Aloysius!):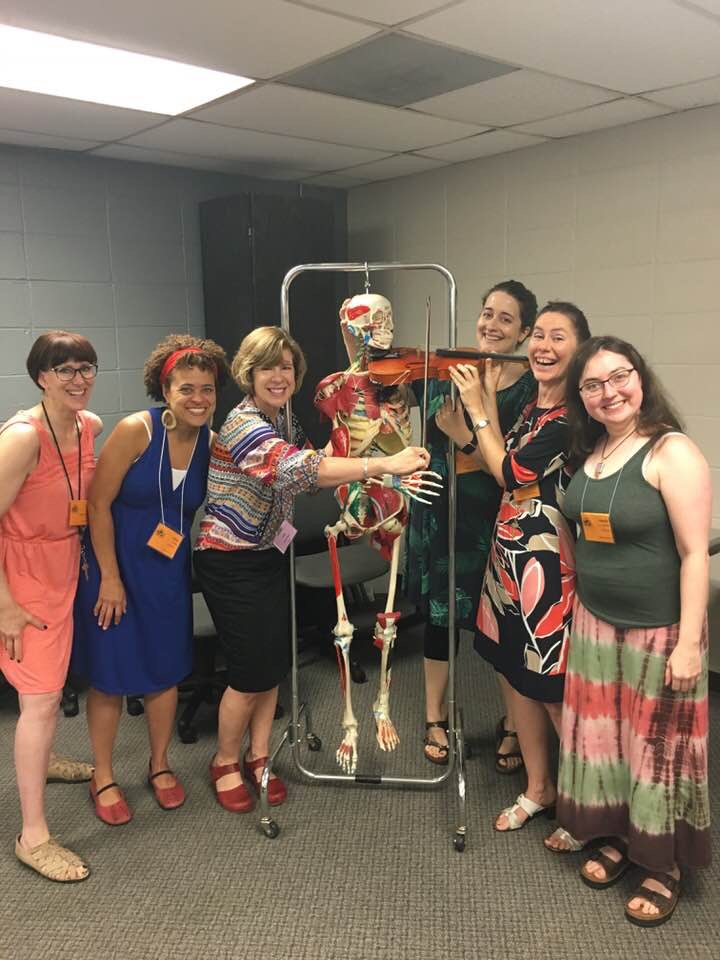 At CSI - Violin Books 9 and 10 with Ann Montzka Smelser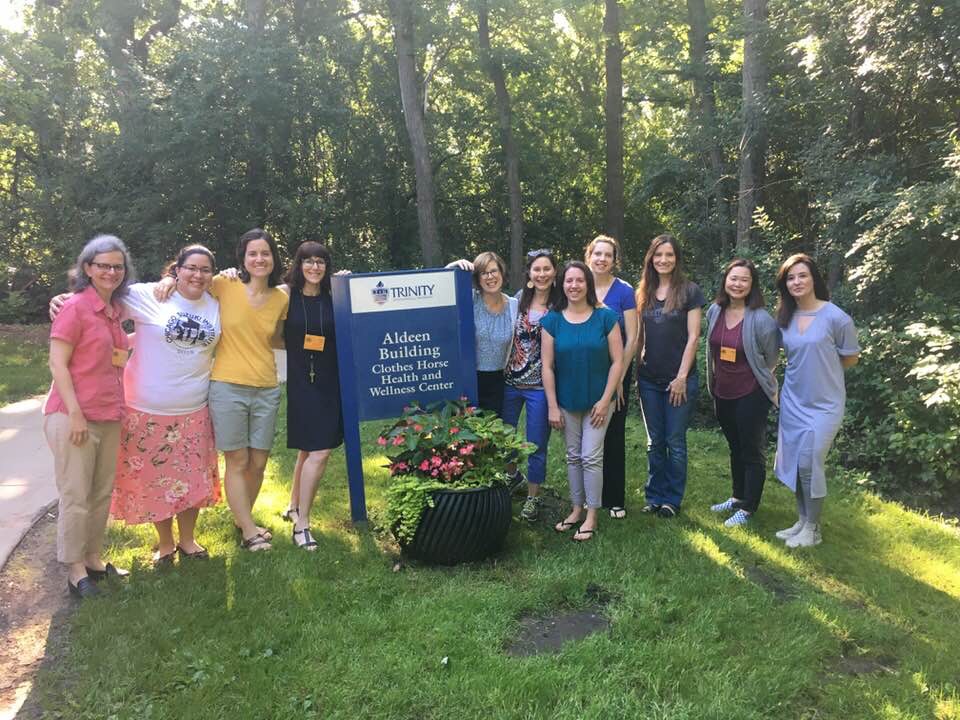 SUSAN'S TEACHER DEVELOPMENT SUMMER 2017: CSI, ISM, SOSI, RCM!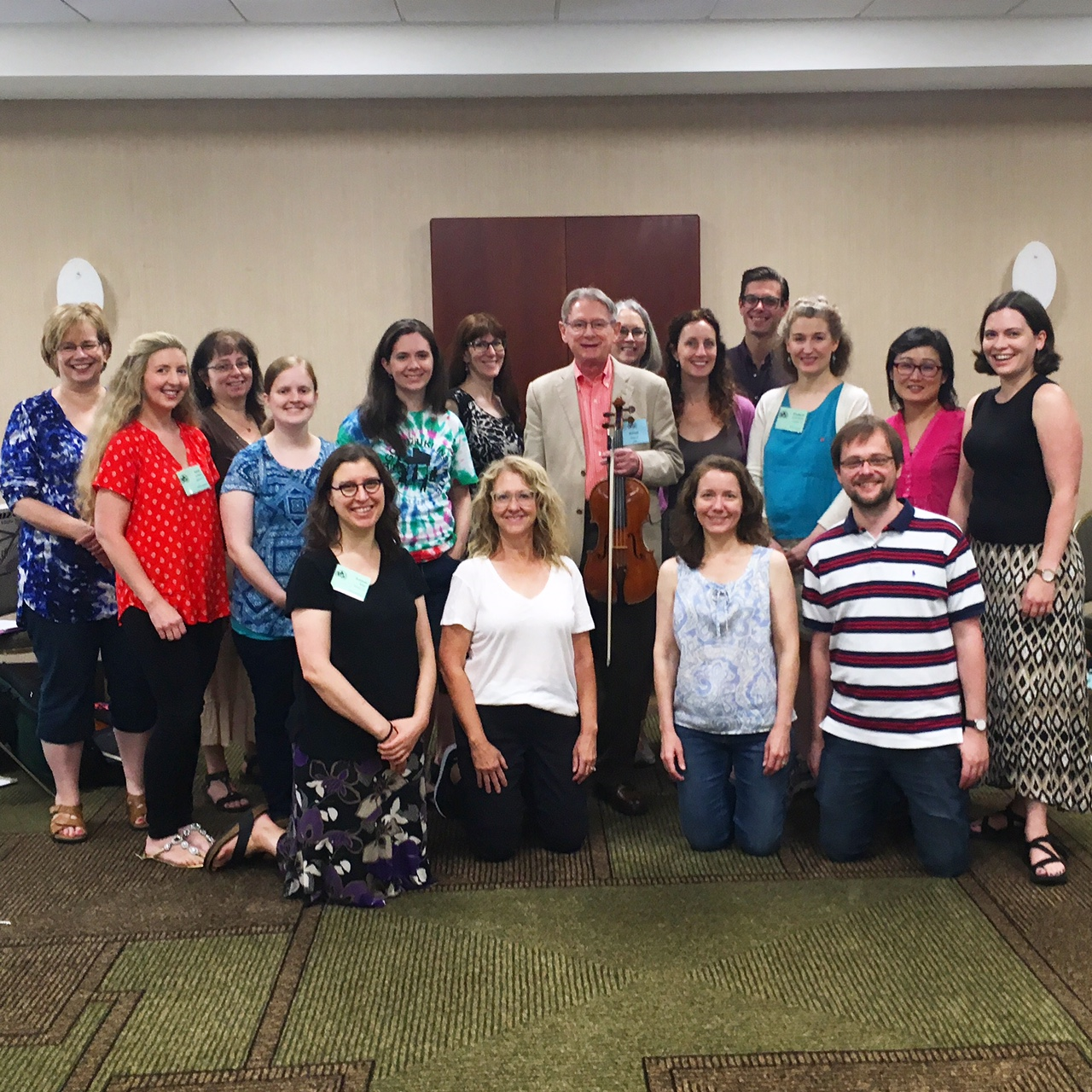 1. What a privilege to attend CSI for the second year in a row! In the spirit of "lucky 7s" I took two courses to register - both Book 7 Viola and Book 7 Violin - and my birthday was on 07/07 while I was there. as well!
I met so many wonderful people and saw many now familiar faces as well. The weather even cooperated and we escaped the unbearable humidity experienced at CSI in 2016.
The reason I opted to invest in travelling to the US, even with out low Canadian dollar, (and missing out on the Canada 150 celebrations :( ), was that this might have been a final opportunity to study with the illustrious William Preucil, Sr., at a summer institute. At 87 he looks and sounds amazing, however his wife (also amazing!), the illustrious teacher Doris Preucil (AKA "The Action Lady") has expressed that she likely will not want to travel again [the Preucils are based in Iowa]. The SAA allowed us to go over the usual limit of 15 teachers in a professional development class - so, imagine the glorious sound of 16 teachers plus Bill Preucil Sr! On the last day we joined two high school master class students in playing Book 7 repertoire, including Ave Maria and J.C. Bach, to make it 19 beautiful violas together. Chocolaty bliss!
For Book 7 Violin, my teacher trainer was Ann Montzka Smelser and she is also very highly regarded as one of the top trainers, internationally. Some of you may recognize the name Montzka - her father, Art Montzka, is credited for many of the seminal photos of Dr. Suzuki. They went to Japan to study many times, and are one of the well-known founding families of Suzuki in the USA. Ann is a sparkling, genuinely caring teacher, very generous in her knowledge, and committed to lifelong learning. She brought along Baroque bows for everyone to experiment with when playing the Baroque pieces in the unit, and also gave all of us bound collections of her favourite "torturous" exercises!
With this wealth of materials, as well as at least 30 other class observations under my belt, you can bet I am inspired to share many new ideas with my students! Thanks to the sharing and caring Suzuki community, including fantastic teachers whose classes I sat in on: Violas: Danny Gee, Sharon Chung; Violins: Reagan Brasch, Mr, Yamada, Mr. Goodwin, Nancy Jackson, Susan McDonald (Ann's sister), Janis Wittrig, Sarah Arndt,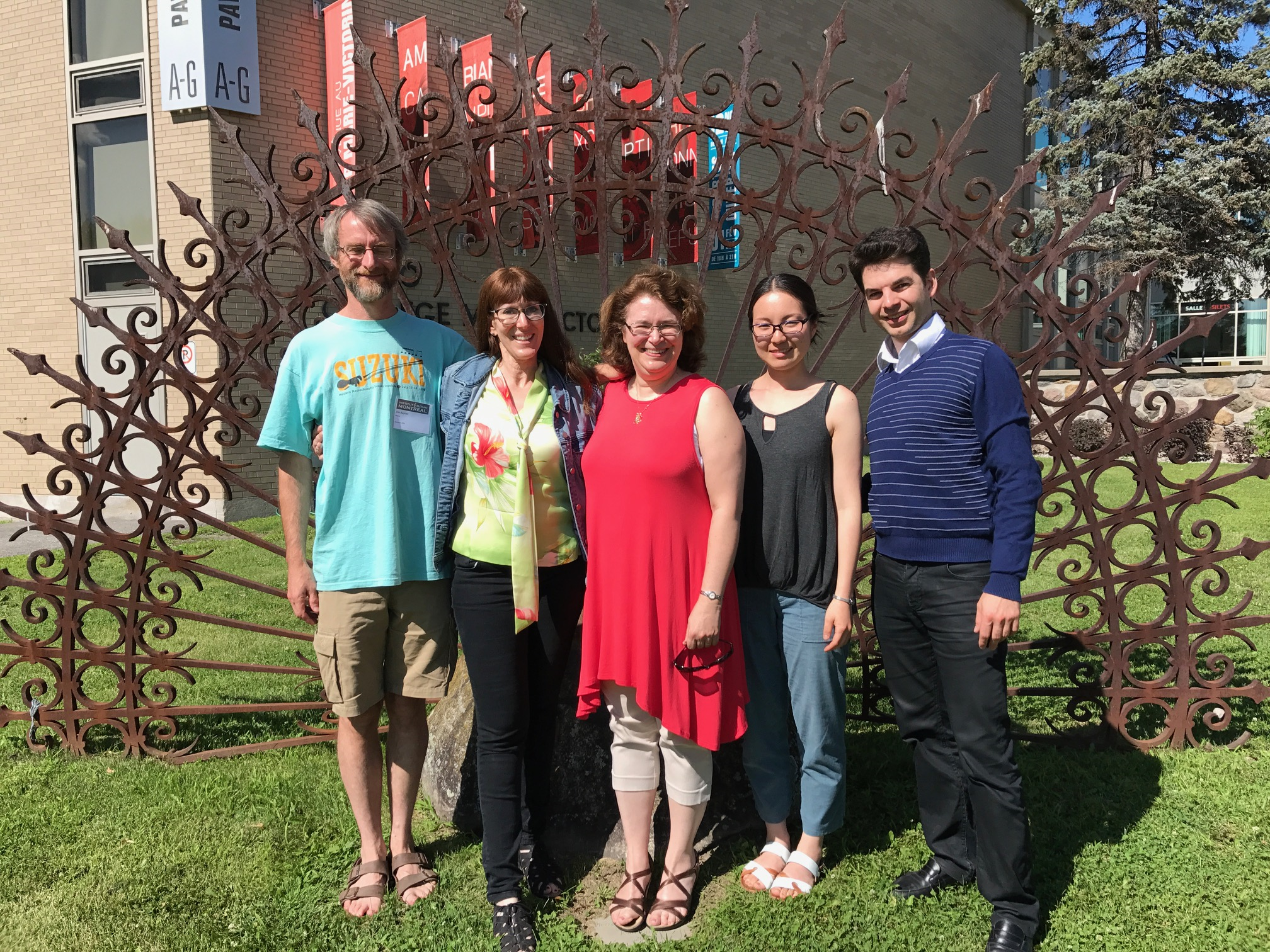 2. It was very exciting to attend ISM for the first time this summer, July 23-28. It was very rewarding to take the Practicum Unit with colleagues from Montreal (originally from Paris, France), Vermont (USA), and White Horse Yukon (originally from Japan!). Paule Barsalou is an excellent and experienced trainer who encouraged me to take the leap this summer. This intensive course involves in-depth discussions of how to teach, as well as reviewing videos of our teaching in our home studios, teaching group class at the institute, as well as teaching a master class.
For my master class student, I was assigned the grandson of the ISM director, who arrived very tired and was crying that he didn't want to be there! Within a short time the student was laughing and happily participating - thankfully all's well that ends well. Not only did we have fun but I was able to deliver a high-quality one-point lesson on a favourite topic - the bow hold :)
This course was an important step on the way to obtaining my Level 1 certificate of Achievement - a goal for 2018.
Onward and upward!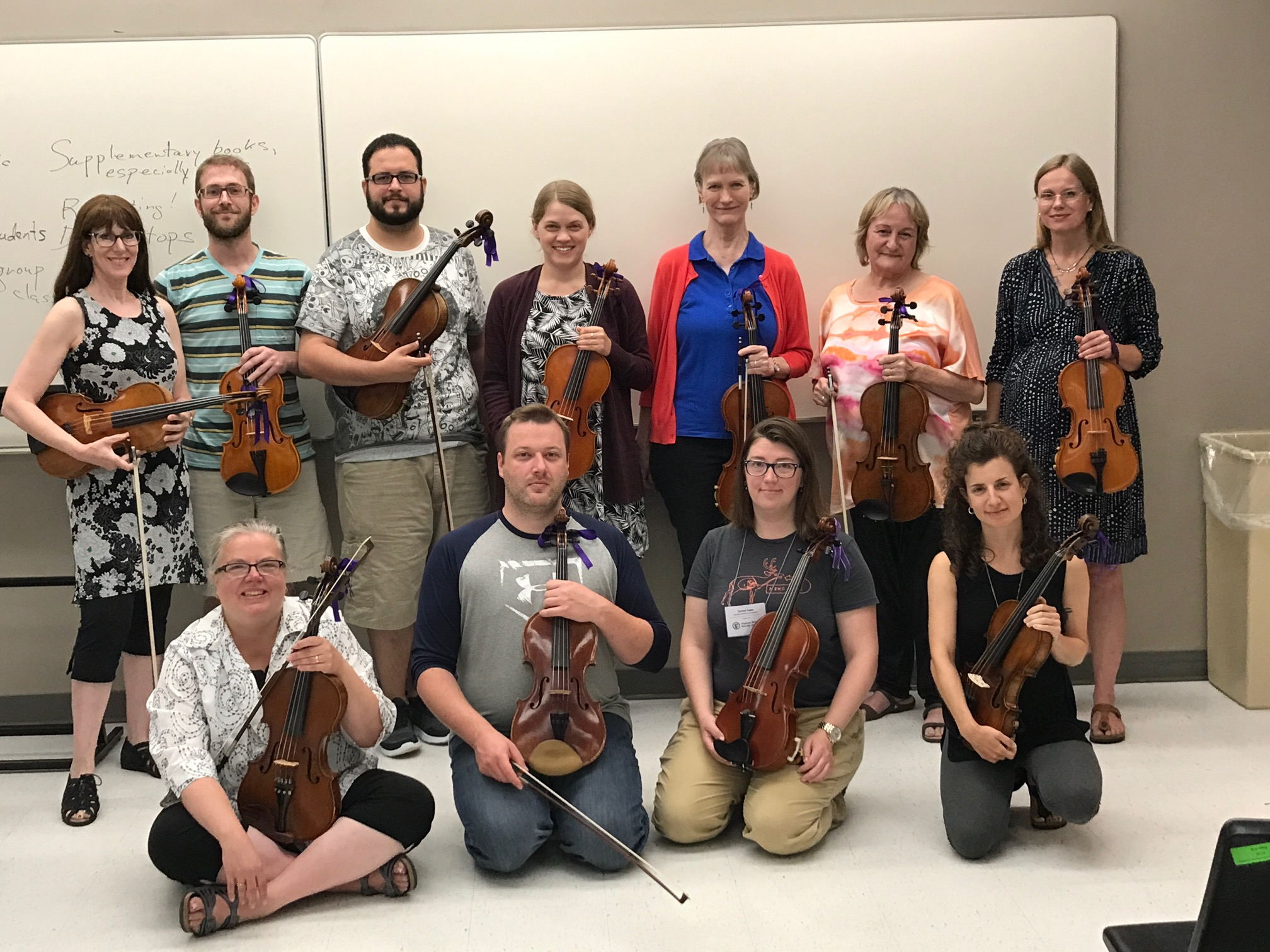 3. Another terrific week at Southwest Ontario Suzuki Institute! I would love for all my students to attend SOSI or ISM next year (note: ISM is bi-lingual - a great opportunity to enrich your French as well as violin/viola skills!)
In case anyone is thinking of venturing to "the dark side" - the chocolaty, rich tone of the viola - do not hesitate!!!
The viola is a great addition to the violin - many people will "double" as a way to do more playing, especially chamber music. Of course some people find their permanent home with the viola and really commit to switching over.
Please let me know if you are interested. You can rent an instrument short term to check it out, and we can split lesson time to do both, if you like.
Purple Power!!! - Fun fact: Smaller violas will have a purple ribbon tied on the scroll. Blue is the violin colour in the Suzuki Method Books, and Purple is for Viola! The ribbon protects little instruments from being overtuned - It reminds teachers and parents that A strings don't like being stretched to an E!!
Viva Viola :)
4. To round out a busy summer of professional development, I attended both days of the 2017 Summer Summit, "Transform Your Teaching" and received a lovely Teacher Certificate of Recognition.
The keynotes were Bonnie Blanchard (author of Music for Life series) and Peter Mack - awesome!!!
A highlight for me was a peak into the RCM violin examination room with examiner Margot Jewell - coincidentally we were both at ISM and SOSI this summer and it was neat to connect in the RCM setting as well.
I enjoyed the session so much and seem to have a natural feel for the process, so I am now being encouraged to apply to become an examiner!
In the meantime, I hope to prepare many of you for successful RCM practical exams. These exams are important stepping stones on your journey as music students. If you are interested, please let me know in September so we can start preparing for the November application deadline.
Musically yours,
Ms. Susan